Burgers and Bocce at Museum Tower Dallas
The weather will be perfect and the grill will be hot. The only thing you have to bring is your best bocce game this evening at
Museum Tower Dallas
.
Beginning at 6:30 p.m., we invite our residents and their special guests to join us on the
Great Lawn
for burgers and bocce.
John Coleman
, executive chef of
Savor Gastropub
and its casual walk-up stand named
Relish
, will prepare the juicy burgers, flavorful sides and delectable appetizers.
It will be up to you to roll your way to victory this evening. Catering to optimum convenience, Museum Tower is sharing the best bocce insight and tips for residents and special guests right here.
Bocce ball is similar to bowls
and petanque.
Get a good grip.
Bocce ball is a cousin to bowls. Not just in style, but in technique too.
Hold the bocce ball with fingers spread to evenly balance the ball. Allow your thumb be relaxed on the ball. This will help stabilize and guide the ball as you make your toss.

Museum Tower's bocce ball court has a traditional earthy gravel surface. Insider tip: Rolling the ball is going to be an excellent strategy.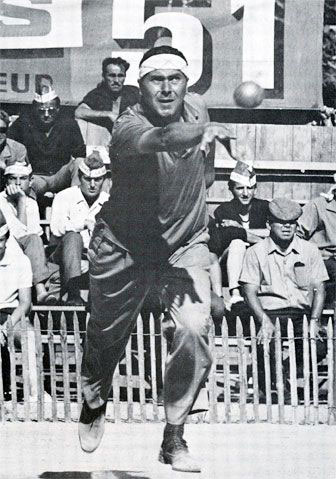 Granaglia was named
Player of the 20th Century in 2005.
Precision is really the name of the game.
And so is
Umberto Granaglia
. With unmatched accolades, he is considered the greatest bocce player ever. Granaglia's form and skill is recognized as that of the perfect bocce player.
The object of bocce ball is to take keen aim and land your toss as close as possible to the small ball. This target ball may be either yellow or white and is called the pallino.
One point is given for each bocce ball that is closer to the pallino than the opposing team's balls. The game continues until the pre-determined number of points are scored.
If the bocce ball touches the pallino, it's called a kiss or, baci. A player is awarded two points for this.
German actress Elke Sommers plays
bocce at the 1962 Cannes Film Festival

The first toss counts. So does the last.
Once the bocce court is ready for game play, you've got a good grip and you're focused, it's time to make that first shot.
This shot often decides who will have the advantage for the duration of the game. If the first player's toss lands close to the pallino, the opponent must play around this bocce ball for the duration of the game.

Though by the same token, the last toss could be a game changer. If you go for an aggressive tactic,
Ernest and Mary Hemingway with Spencer Tracy at the
bar corner in El Floridita, Havana, Cuba circa 1955.
The highball cocktail for the spectator.
Bocce Ball
, a cocktail dubbed after the game. It's a juice drink akin to the Screwdriver, just tell the Museum Tower bartender to add a half ounce of amaretto and a splash of soda water. Delicious and refreshing.
Alla salute!